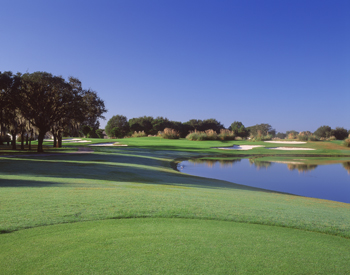 Bloomingdale Golfers Club is a 'tough but fair' test of a player's ability. From the 'tiger tees' it's a 7,155 yard par 72, with a 74.4 rating that is among the most difficult in the country. Yet from the shorter blue, green, white or red tees the course provides a fun, 'members-style course' with plenty of birdie opportunities. While singling out any one hole on this magnificent course is tough, Golf Digest described Bloomingdale Golfers Club as having the best collection of par 5's on one golf course as they have seen. They start at the par five 4th, a majestic hole of some 564 yards that snakes first left, then right, then left again along a fairway lined with 100 years old trees to a green set back in a clearing. Positioning and strategy, not mere length will be needed to yield a birdie on this hole. The 9th is a great finish to the front nine that measures 546 from the tips. It's a dogleg left guarded off the tee by a lake on the right, with the second shot and approach guarded by a lake left and in front of the semi island green. While it's possible to reach in two most players will be more than happy setting themselves up with a good wedge shot in. The 14th is another spectacular 514 yard dogleg left, guarded either side be towering trees and natural wild life, straight is much more important than long on this hole. The final five is another awesome hole that offers a little of everything, trees off the tee, massive traps to avoid on your second and a lake once more guarding a green accented by native pampas grass six feet high.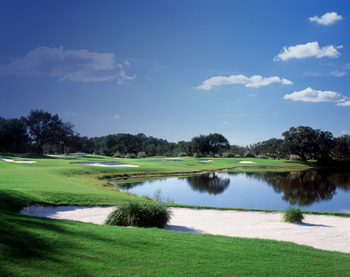 The par three 13th, 175, yards is among the most beautiful par threes you will ever play. From a tee surrounded in flowers you hit to a well guarded green that feature huge oaks on the left side, large bunkers short and the ever present lakes to those who dare to stray right. The 18th , 409 yards is a classic par four dogleg left that demands a nice draw off the right hand fairway trap from the tee. This leaves you a short to mid iron into a green well protected short, left and right by the natural marsh. It's a terrific finish that really sums up the classic design, challenge and beauty of the course. With such a wonderful course and excellent practice facilities to back it up that include a large range, a 1,000 square foot putting green and a great short game area it's no surprise that some of the world's best players from the PGA, LPGA, European Tour, Nationwide Tour, and other regional tours, have called Bloomingdale Golfers Club their home. Currently, PGA tour star Michael Bradley plays out of BGC. BGC has been host to numerous local, state, and national tournaments, as well as host for the PGA Tour Qualifying School.

Come and experience Bloomingdale Golfers Club for yourself…we are proud to share it with you. And, when you arrive to play don't be surprised if your round is observed by one of the club's mascot raccoons or the other furry and feathered friends. Get back to nature and get in the best golf in the Bay area at Bloomingdale Golfers Club.